Start Your Addiction Recovery
Get the help you need right now. Renascent offers a government-funded Virtual Intensive Treatment Program. Using the latest, secure virtual technologies, clients can access Renascent's government-funded Virtual Intensive Treatment Program from anywhere, at no cost. Our evidence-based programs are trauma-informed and concurrent capable for those with co-existing mental health conditions.
Safe and Trusted Addiction Treatment Programs
As part of our response to COVID-19, our new, Virtual Intensive Treatment Program allows us to provide essential addiction treatment and support while keeping our clients, staff, and community safe.
---
---
Specialized Addiction Counselling At No Cost
This program works best when you have a strong support system in family and friends and currently live in structured, supportive housing. You will also need to maintain abstinence and attend 12-step or other peer support community meetings regularly.
Over six weeks, our Virtual Intensive Treatment Program provides support, safety, and structure alongside flexibility to those who are unable to take time away from their regular lives, work, or school.
Using video calls, you will engage in group counselling sessions twice a day, every weekday with our expert clinicians and therapists. You will also take part in individual counselling sessions or assessments.
With outpatient services, you can continue with your lifestyle and be with your loved ones at home during recovery. This also means you have the option of keeping up with your job, schooling, or family commitments because the programming is part-time and does not require presence and participation 24 hours a day.
You will receive extensive post-treatment planning. And, after completing the six-week outpatient program, you can transition into our virtual Continuing Care, and Alumni Care Programming.
---
Government-Funded Virtual Intensive Treatment also includes:
Program orientation and intake;
Comprehensive bio-psycho-social assessment;
Individual treatment planning;
Group, individual, and family counselling;
Psycho-educational programming;
Case management, including transition management and discharge planning;
Nicotine cessation treatment; and
Referrals to community support including: medical treatment and supports, housing, mental health services and psychotherapy, life skills development and educational services, legal services, and family supports.
Benefits of Virtual Treatment
Convenience: Clients have the flexibility to continue their daily lives while enrolled in this program.
Security: Client safety and confidentiality is paramount and we only use secure and encrypted systems.
Expert Care: Sessions are led by certified, expert clinicians and therapists who provide evidence-informed treatment options.
Accountability: Clients are held accountable through attendance at group and individual sessions.
Connection: As experts in virtual treatment, our online environment fosters meaningful connections among clients during sessions.
---
Sustainable Recovery
At Renascent, we believe that ongoing support and care is a vital part of long-term recovery from addiction. Our Virtual Continuing Care program has been designed to provide you with the support you need as you return to home, school, or work and begin to learn how to navigate life's challenges in recovery. We'll give you the skills you need to face stressful situations, build new supportive networks, and reduce your risk of relapse.
Continuing Care is provided on a virtual, outpatient basis. The program is open to anyone aged 16 and up who has completed outpatient treatment with Renascent or with any other accredited treatment provider. We offer flexible ways to keep up with all of the positive steps you took during our Virtual Addiction Treatment Program.
---
---
Successful Addiction Treatment
"I was given a second chance with Renascent – which transformed my life. The Virtual Intensive Treatment Program helped me understand and process my experiences, gave me connections to others who understood what I was going through, and provided tools to help me abstain from drinking while remaining home.
This was my first time participating in any type of virtual setting and I was pleased by how engaging it was. The counsellors were welcoming and I was amazed at how quickly we all bonded. I am so grateful for my journey with Renascent, as being sober gives me a whole new perspective on life. I am a different person now."
Pat – Virtual Intensive Treatment Program Alumni
"I completed the virtual outpatient program this past summer, after trying two other residential programs in the last year. The Virtual Intensive Treatment Program allowed me to build a community-based recovery program while receiving expert individual and group counselling. Some of the counsellors were in recovery and all understood the unique nature of this disease. They were skilled in their role as counsellors, as well as compassionate. They were adept in navigating online video group sessions and made full use of the benefits of this technology. I felt that my privacy was completely protected and secure. Because it was a virtual program, I could bring new or ongoing life issues to the program in real time and receive on the spot advice to help me resolve them. Today I am happy and live a fulfilling life. My family and I thank you for the life-altering treatment you have provided."
Raj – Virtual Intensive Treatment Program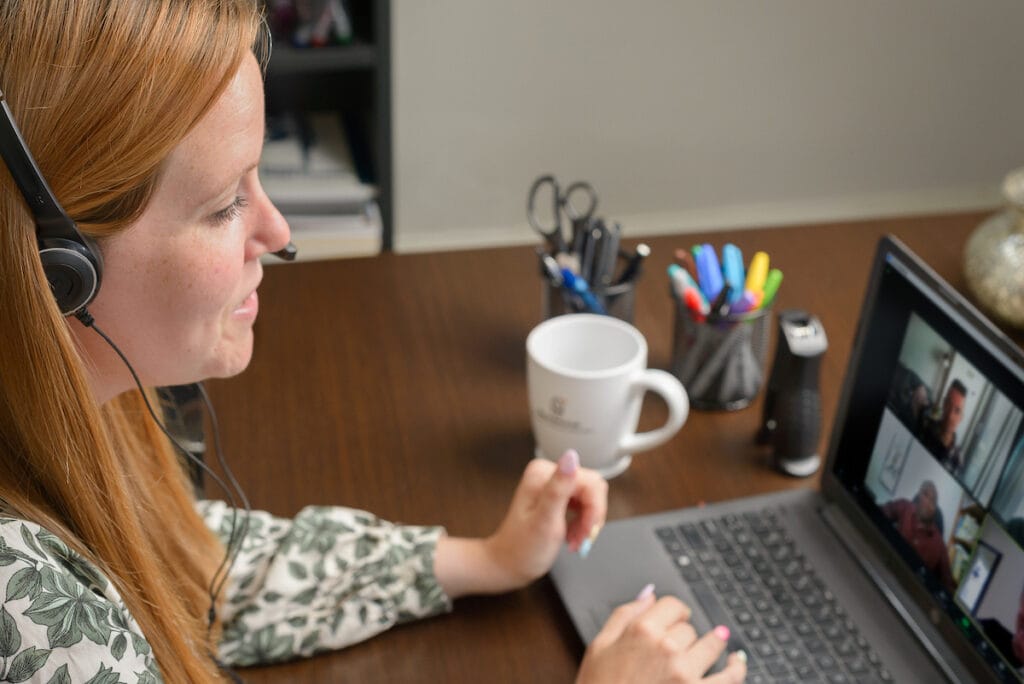 ---
Learn more about our Virtual Continuing Care program or talk to one of our counsellors to see if it's the right program for you.
---
---
Stay connected with information and resources
You're not alone on this journey. We're always offering new resources, information, and stories of hope and recovery on Renascent's blog for our clients and community.
Related reading:
Inpatient Versus Outpatient Treatment: Which is Right for Me?