September 2021
The current COVID-19 Pandemic has had a tremendous impact on our health care system's ability to deliver timely and effective care without increasing the risk of serious illness from COVID-19. Communal living facilities such as residential treatment centres have been uniquely affected. To optimize safety for our clients, many treatment centres have reduced the number of patients who can attend their facility every month, which has led to increasingly long waiting lists for many clients in need of treatment. With the development of effective and safe vaccinations, the risk of serious illness can now be substantially reduced.
At Renascent, we are committed to creating the safest residential treatment community possible. To assist us in achieving our goal of optimizing community health and safety while simultaneously and urgently reducing waiting times for access to treatment, Renascent requests that all clients receive both doses of a COVID-19 vaccine at least fourteen days before attending.
COVID-19 vaccines are given three to four weeks apart, so the first vaccine would need to be received at least six weeks before the client's admission date, and the second vaccine, two weeks before the client's admission date.
The benefits of vaccinations and reasons for requiring vaccination before attending residential treatment include, but are not limited to the following:
COVID-19 vaccinations are safe, and all clients in Ontario have the option of receiving a Pfizer or Moderna vaccination.
Vaccination can reduce the risk of contracting COVID-19 and reduce the likelihood of becoming seriously ill, being hospitalized, or dying due to the virus.
Vaccination can reduce the likelihood of you spreading COVID-19 to fellow clients, who may be vulnerable to severe illness, hospitalization, or death.
If all who can be vaccinated before attending the program do so, then the probability of a treatment program interruption due to illness related to COVID-19 is dramatically reduced.
What should I do if my doctor or health care provider tells me that the COVID-19 vaccine is not recommended for medical reasons?
The great majority of the public can safely obtain vaccination against COVID-19. However, upon consulting with their health care provider, some clients may not be able to receive vaccination for various medical reasons. In this case, please obtain a note from your health care provider and bring it with you on your admission date.
Where can I get the COVID-19 vaccination?
Many pharmacies administer the COVID-19 vaccine, and pharmacists are trained to ensure that it is safely provided to you. Alternatively, you can book an appointment through the provincial scheduling tool: https://covid-19.ontario.ca/book-vaccine/. You can also find this link and information about Renascent's COVID-19 response on our website: www.renascent.ca/covid19. We ask that you print your vaccination receipt and bring it with you on your admission day.
What should I do if I cannot get vaccinated before being admitted?
Renascent strongly encourages you to obtain both doses of your vaccination 14 days before the admission date. If this is not possible, with your consent we will arrange for you to go to a local pharmacy upon your admission to receive vaccination.
We recognize that asking for vaccinations adds one additional step necessary to gain admission; however, this will tremendously improve the safety and wellbeing of your entire treatment community.
For questions regarding admission, please contact our Client Care Access Centre at: 1-866-323-1212.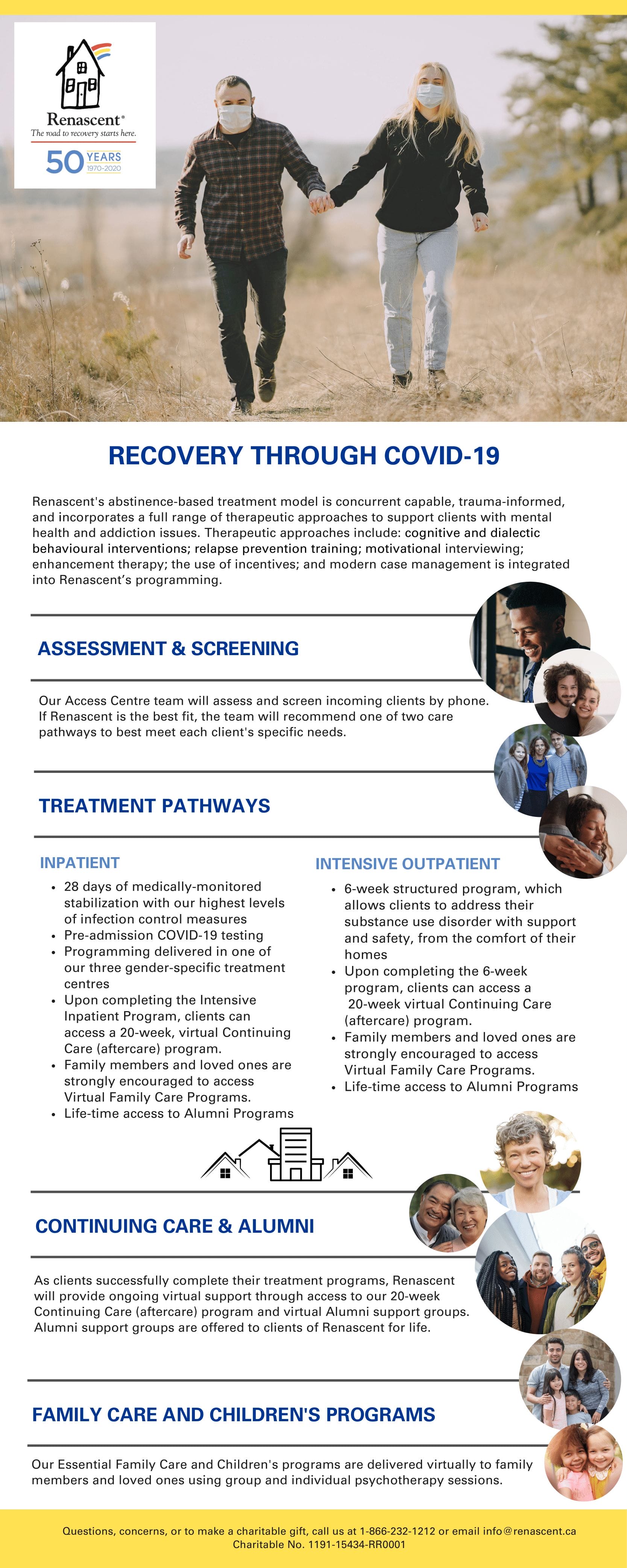 April 21, 2020
Here at Renascent, our focus in the last weeks has been working with our health system partners and government to respond to the COVID-19 pandemic. Our commitment through this crisis has been to find the ways to continue to serve those struggling with addiction, while at the same time safeguarding the health of our staff, clients, and community. The need for addiction treatment and support has never been greater. The increased economic hardships and isolation due to COVID-19 are creating heightened anxiety and even more desperate situations for those struggling with addiction. To compound the problem, many of the treatment and community programs that people have relied on in the past have had to scale back their services or close their doors due to the pandemic.
Today we are proud to share that Renascent has developed a series of innovative new programs. As of April 22nd, we are launching:
New virtual/online programs to help individuals and families at home.
Newly structured two-stage inpatient treatment program to help those at greatest need, with stringent infection control to prevent COVID-19 risk.
Renascent's new virtual/online treatment and support programs will respond to the current critical need to support those who are unable to access in-person care. These new virtual/online programs include:
Pre-admission support programs, due to heightened isolation, anxiety, and expected longer wait times for inpatient treatment.
Intensive outpatient program for individuals with substance addiction who may benefit from this type of treatment and/or who are advised not to join an inpatient treatment program during the pandemic.
Intensive outpatient programs for family members who are also in need of support and treatment and unable to attend in-person programs.
Continuing Care – our 20-week program will be offered to all clients completing inpatient treatment.
Alumni support groups will be offered to all alumni.
Renascent's innovative two-stage inpatient treatment model allows us to continue to provide our essential service at our highest level of care and with excellent infection control measures to reduce the spread of COVID-19.
The model provides for an initial 14-day medically-monitored stabilization stage with strict physical distancing and private rooms.
This first stage of the program will be delivered at Renascent's Punanai Centre for both women and men. Following this, clients will transfer to our Sullivan and Munro Centres for stage two of their treatment, an additional 28 to 42 days.
Strict screening, infection control, and physical distancing measures have been implemented in all Renascent Centres.
Please contact us at 1-866-232-1212 or info@renascent.ca to learn more about these programs and find out how we can help.
If you would like to support these innovative life-saving efforts with a donation, please join us by donating.
---
April 9, 2020
As we continue to follow the recommendations from the Ministry of Health and Public Health, client admissions continue to be on hold while we develop comprehensive plans to serve the most vulnerable people in our communities and develop virtual care programs to support people waiting to access treatment. Our centres are still operating with adjusted service delivery of our programs.
For more information, please contact our Access Centre at 1-866-232-1212.
---
March 30, 2020
As we continue to follow the recommendations from the Ministry of Health and Public Health, all client admissions continue to be on hold. Our centres are still operating with adjusted service delivery of our programs.
For more information, please contact our Access Centre at 1-866-232-1212.
---
March 20, 2020
As we continue to conduct in-depth reviews of all information and recommendations from the Ministry of Health and Public Health, and safe program delivery options, we are placing all client admissions on hold until Wednesday, March 25th.
For more information, please contact our Access Centre at 1-866-232-1212.
---
March 14, 2020
Renascent's Prevention and Preparedness Response to COVID-19
As the world responds to the current COVID-19 situation, Renascent has established an ongoing information review and decision-making process, to ensure the latest directives and recommendations from Toronto Public Health, Public Health Ontario, and the Ministry of Health are implemented.
Our clear mandate is to protect the health of people by continuing to provide critical treatment services to those in need, while implementing prudent public health safety measures based on the best advice from public health experts.
In January, Renascent began implementing increased infection control and travel screening protocols with all of our incoming clients and with our employees. These screening protocols have been increased over the last few weeks.
In response to the direction from Public Health yesterday, March 13th, Renascent implemented increased social distancing protocols for our treatment centres, which included restricting non-essential visitors to our treatment facilities, client outings involving group gatherings, and increased infection control and screening protocols for all clients and workers at Renascent.
Due to the latest direction from Public Health to cancel large gatherings, Renascent has moved forward to cancel upcoming Spring events and will be in touch with all participants of these events next week.
We will continue to monitor and adapt our procedures based on the situation and advice from public health and the province on a daily basis.
Thank you to all of our incredible team members, volunteers, and community supporters for your cooperation and efforts as our communities navigate through this challenge. Our collective efforts make all the difference.